Supermarket Racks
Super Market display racks

What Actually Super Market and Display Racks is?

Super market display rack is quite new to know, and as you all know Super Market is a shop consisting of a wide range of items including varieties of food, household products and clothes. In super market it is very is easy to find out the items as they are arranged in racks in a good manner.

Super Market Display Racks:

Find it out here the interesting, yes there are many and different service provider of super market display racks and there are some innovative designs which is really used in the production, planning purpose. There are varieties in super market display racks like super market shelving, electronic super market racks. Let see in this article further discussing the super market display racks.
You may know some other types of markets like hyper market and big box market. Those are very big markets containing huge amount of products but super markets are small in size having more limited range of products compared to hyper market. Markets are given names depending on the size of market like small market, grocery shop, super market, hyper market and big box market.




How the Super Market Process Works?

We can directly go and pick the item. The best thing in super market is if you want to know the price of any product you no need to go to the shop keeper and ask, just by seeing the label sticker attached to that product we can come to know. If it is in your estimation you can pick it, otherwise you can leave it there.
We all know the most of the people prefers super markets for buying grocery items because so many items are there in grocery list. So they feel super market is the place to pick the items easily from the racks. Another chance with shopping in super market is if you forget anything to note down in the list,, as you come to see all the item in super market racks you will remember that items and pick them.
But when you go to normal grocery shop you are not able to see all the items in the shop. you can take only the listed items offering in the market. Along with grocery items we can shop meat, fresh fruits, vegetables, dairy products, bakery items like biscuits, chocolates, rolls, puffs , wrappers and all the types of food.

How the Display Racks Works in Super Market?

Not only food items present in the super market. There are no food items also there.. Such as kitchenware like mixers, grinders, utensils, variety of bowls, spoons. Household cleaners like broom sticks, vacuum cleaners, different types of cleaning items. Pharmacy products are also available in some super markets like tablets, tonics and all.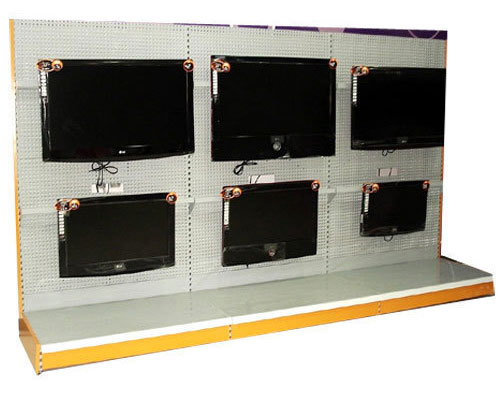 Super Market Electronic Display Rocks:

Providing entertainment products increases number of customers to the super markets.. So all the super markets provides CDs, DVDs, CD players, Video games, sports equipment like cricket balls, bats, glouses, guards. Every super market is interested in selling seasonal items like lamps in diwali season, Christmas trees and wrappers in December, greeting cards for new year and all.
Choosing place for Super market is the first foremost thing to start your business. Usually as super market contains large amount of products it occupies a large amount of floor space on a single level. It should be located in a residential area when many numbers of customers can come for shopping there. The basic thing about super market is making availability of huge range of branded products under a single roof with low prices.

Importance of Display Racks in Super Market and other stores:

Important convenience of customers at super market is providing place for parking their vehicles without any traffic. The timings of the super market must be from morning to that extends to evening.. If it is 24 hours super market then the will be the best super market ever.
Super Markets usually get their products from product distribution centers of their parent companies.. Super markets always try to give products at low price as they get products directly from manufacturing companies at low price than smaller grocery stores. By paying the bill for goods atleast 30 days after receipt they reduce the financial cost of products. Super market can get credit terms for 90 days or more than that from product vendors.

Growth of Super Markets in developing countries:

From 1990,s there is a rapid change in food sector in all developing countries like Latin America, South-East Asia, India and china.. We can see growth of super markets in all these countries and this growth slowly became the competition among super markets.. There are so many Super markets developing in India like Reliance fresh, More, Good Buy, RatnaDeep, Heritage,, Dmart and so on.
Growth of super markets increased so many things like number of ladies started working as sales agents and some are working for preparing instant food available in super markets and using of refrigerators and micro ovens is also increasing for providing fresh and tasty food to customers. The opportunities available with super markets are encouraging several European companies to invest in these super markets especially in Asia countries.

What is Super Market Merchandise?

Large super markets in Europe and North America sell a large number of products,, branded items in all sizes and varieties.. Super markets includes items like Alcoholic beverages, baby foods and baby products like disposable diapers, glouses, body creams, lotions and all. Breads and bakery items like puffs, wrappers, biscuits and chocolates, etc..,
Super market also purchases books, magazines and news papers..Bulk dried foods, canned food cigarettes and all other tobacco products, candies , cosmetics, dairy products, eggs, diet foods, sauces, flowers, frozen foods, vegetables, fruits, greeting cards, house cleaning products, laundry products, luggage items, sea food, meat, first aid box, medicines, drugs, aquarium tanks, soft drinks, bottled water, snacks, ice creams, tea, coffee, toys, pillows, bed sheets are available in super markets.

Architecture of Super markets:

For attracting many number of customers providing different types of items is not enough.. Posing your super market very attractively with very spacious floor, attractive and pleasant colors, good arts and quotations display inside the store is the most important thing..
Stores can creatively use a layout to change perception of customers according to the atmosphere. There should not be clumsy climate in the store.
One kind of the items should be arranged at one place in racks to find and pick up products easily. . Visual communication in the store should be pleasant like colors inside the store and lighting conditions and air conditioning issues. Arranging store completely in circular shape can decrease the traffic in the store. So it is better to fix floor in circular manner.

Types of retail stores use Super Market Display Rocks:

Retail store means market in usual language.. A market is a place where goods and services are got exchanged. In olden days, marketing is being done by exchanging only things and no money exchange is not there. Later markets started taking money for giving goods and products. In a small village also you can see so many markets which are selling groceries and all. After some days different markets are opened for different types of goods..
Suppose for vegetables- vegetable market, for fruits- fruit market, for grocery- grocery store,, for cloths- cloth shops, for baking items- bakeries. So we ca not get all the type of items at the same place. We need to go to different places for different items.. After some days super bazaars are started where we can we get huge number of products. Those are also very less in a city..
But now in this modern days, we are very luckier to have so many super markets around us for shopping all the kinds of products at the same place.. By this time saving, energy saving and money saving can be done. We can visit super market where we can buy vegetables, fruits, flowers, grocery items, bakery items, household items, kitchen products, decoration products at the same place.

Types of Retailers used Display Racks:

Retailer means who carries the products to markets.. Retailers can be classified by the type of goods or products they carry.. They are like food retailers, fabric retailers, grocery retailers, soft line retailer, cosmetics, stationery retailer, auto mobile retailers, Electronic retailers, handicrafts retailers, gifts retailers.

Food Retailer carries goods like meat,, fruits, vegetables, food stuffs, dairy items like milk, curd, cheese, ghee and all.
Fabric retailer carries product likes sarees, dresses for women, girl and costumes for men and boys.. They carry different fabrics like silk, cotton and etc..,
Grocery retailer carries all the grocery items needed in home like sugar, rice, flour, onions, all types of nuts and sujis etc..,
Softline retailer carries items which are used for single use like tissues, diapers
Cosmetic retailers carries items like facial creams, gels, powders, eye sticks, lip sticks and all make up accessories
Stationary retailer carries items like pens, pencils, different kinds of books and all needs of students. Files, folders and different geometry boxes, writing pads, bags and all.
Auto mobile retailers carries items like spare parts of different types of vehicles, different kinds of motors, fitting tools, grease, different kinds of oils required repairing vehicles.
Electronic retailers carries products like all types of electronic devices like mobiles, laptops, refrigerators, washing machines, mixers, grinders, fans, electric cookers, electronic bikes and all. Electronic retailer working for one branded company is not allowed to retail for other brand of electronics. Very demanding sector in all retailers.
Handicrafts retailer carries products like handmade clocks, fabrics, toys, greetings, home decorative things. Handy crafts are very expensive because they are very rarely available things.. Retailers for Handy crafts are also at very demand.
Gift article retailer's carries products like greeting cards, gift articles likes clocks, toys, teddy bears and puffy toys. Now the trend is gifting special persons on every occasion so number of gift articles are increasing day by day.. number of models in gifts also increasing.

Marketing strategy with Digital Display Racks-

Retail types: Retail types are changing by changes in the marketing strategies.. the retail types are like arcades, bazaar, boutique, category killers, chain store, concept store, co operative store convenience store, Department store, destination store, demographic, discount store, e-retailers, Hawkers, Hyper markets, general stores ,malls, mom-pop stores, Retail market, Special store, super market, variety store, vending machine, warehouse club and warehouse store. The explanation for every retail type is explained below.
Arcade is nothing but a shopping mall where different branded companies can keep their store there to make business there..
Bazaar is a placed where the different types of used products are sold at half rate.. People show interest if they are really good and working condition.
Boutique is a small shop which offers a selected range of fashionable products like stationery, furniture, photography services, tea, coffee, electronics and snack items etv..,
Category killer is a store where single category of items at low price. All ranges of that particular category items is must available with category killer. The first category killer is established in 1957 in USA.
Chain stores are the companies where one of a series of stores owned by them.. In this way owners of chain stores get benefits of volume buying discounts and can achieve cost savings.
Concept stores are very small in size and they deal with only single brand of products. Suppose it is archives, it will carry only archives products Convenience store provides very limited amounted items with above average prices.. As the number of products is is less, it is very easy to get an item easily.
Departmental Stores consists of both soft and hard products in very large range.. they always offer good customer services which are considerable.

Conclusion:

Discount store- sounds very great. Right? Yes these stores go with less costs than normal retail costs.
E-retailer is a kind of retailer which takes our orders through internet and get ready with our product to delivery at our address which is time saving.
Hypermarkets provides huge amount of products of all brands in all sizes and qualities. Hyper market occupies very large place to arrange those huge amount of products. Mall is nothing but shopping mall which contains so many retailing shops under the single roof. Shops for clothes, electronic goods, toys, greetings, gift articles, games, entertainment, 4D pictures and food stalls. Malls are generally maintained by central management of mall.
Retail market is kind of market where products are packed and unpacked to the end users directly. Most of the middle class families prefer to retail market as they can get the products at correct price..
Company Name : Racks Mart India
Mobile No : +91-9811382030
Address : RR-11,Naveen Shahdara, Delhi -110032
Email-id : racksmartindia@gmail.com